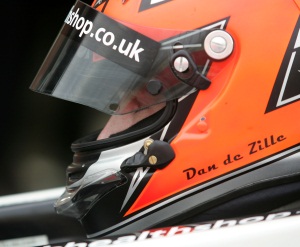 DOB: 20th October 1986
Place of Birth: Leicester
Nationality: British
Residence: Jersey, Channel Isles
Favourite Circuit: Brands Hatch GP
Interests: Cars, computers, clay pigeon shooting, sailing
Results
2012
Formula Renault NEC with Fortec Motorsport
2011
British Formula Ford with JTR
6th in championship with 3 second places and 2 thirds
Aston Martin GT4 Challenge with Nicholas Mee Racing
Championship win with Karsten le Blanc and Christiaen van Lanschot Wins at Spa, Snetterton 300 and pole and solo win at Brands Indy
Britcar 24HR with Nicholas Mee Racing
Class win and overall second place driving with Karsten le Blanc, Christiaen van Lanschot and Robert Nimkoff
Formula Renault UK Finals with Fortec Motorsport
Highlights were 6th place at Rockingham and 9th at Snetterton 300
2010
British Formula Ford with Minister International
8th in championship with a second at Brands GP and a third at Knockhill Fastest lap and lap record at Donington Park National Circuit
Britcar 24HR with Nicholas Mee Racing
22nd place after rising as high as 10th before a late accident, driving with Karsten le Blanc, Ben de Zille Butler and Sarah Bennett-Baggs
2009
British Formula Ford Scholarship Class with Minister Internationl
Highlight was class win at Brands Indy supporting the DTM
Personal
Dan started racing at the start of 2009 after finishing a degree in Computer Science at the University of Bristol. With no prior experience he decided to enter British Formula Ford to learn the skills needed for a career in racing. 2009 and 2010 were run with Minister International, the same team that his father, Graham drove for when he was the 1983 Formula Ford BP Superfind champion. He made good progress against competitive fields, culminating in a second place at the penultimate round of the 2010 championship. For 2011 he moved to the more experienced JTR team, which provided a better learning environment with quick team mates and delivered consistent podium positions.
Also in 2011 Dan expanded his involvement with Nicholas Mee Racing and joined Karsten le Blanc and Christiaen van Lanschot for several races in the Aston Martin GT4 Challenge. They achieved 3 wins and won the championship, with the highlight being Dan's solo drive at Brands hatch against 2 or 3 driver teams in which he achieved his first pole position and took a commanding victory. They also contested the Britcar 24 hours and a flawless drive from all the drivers combined with perfect work from the team to give a class win and second overall against much faster cars.
At the end of 2011 Dan moved to top UK team Fortec to contest the Formula Renault UK Finals Series, in anticipation of joining the main Formula Renault 2.0 UK championship in 2012. He showed good progress against an experienced field but the last minute cancellation of the UK championship lead to a change of plans and he joins the Formula Renault 2.0 Northern Europe Cup for 2012.
In addition to his racing, Dan has been studying for a degree in Automotive Engineering at the University of Bath and is heavily involved in the 2013 Formula Student team.